The Federal Bureau of Investigation (FBI) has gifted the Directorate of Criminal Investigations (DCI) with high end investigation gadgets in honour of two FBI agents who were murdered early this year.
In a statement dated Tuesday, July 26, DCI noted that the Child Adolescent Forensic Interview (CAFI) kits were received by the director, George Kinoti, at his offices today.
The investigative agency boss stated that the equipment would help the Anti-Human Trafficking and Child Protection Unit (AHTCPU) in investigating offences committed against children.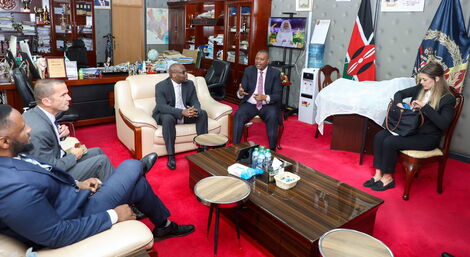 DCI boss George Kinoti with officials from FBI at his offices on July 26, 2022.
DCI
"The CAFI kits were donated in honour of FBI Special Agents Dan Alfin and Laura Schwartzenberger, who devoted their careers to investigating crimes against children and were murdered on February 2, 2022, while serving a search warrant in a crime against children investigation in Florida, USA," read the DCI statement in part.
Kinoti added that the equipment was timely as the AHTCPU had requested his office to purchase the gadgets.
The DCI boss explained that the CAFI kits would enhance their investigations and help the sleuths present water-tight pieces of evidence before the courts.
Additionally, the DCI noted that the American investigative agencies would continue to partner with their Kenyan counterparts in other areas to build the capacities of DCI officers.
"FBI and the State Department Bureau of International Narcotics and Law Enforcement Affairs (INL) enjoy a longstanding partnership with the Investigations, in the fight against transnational organized crimes.
"Specifically in combating human trafficking and crimes against children. This has been achieved through information sharing, continuous training, as well as tooling and equipping of detectives with modern tools of the trade to manage crime," added the DCI.
FBI was represented by International Operations Assistant Director, Alvin Winston, alongside other officials from the United States Embassy in Nairobi.
In the 2022 Trafficking in Persons Report released by the US government last week, Kenya was ranked as a tier two country.
In particular, the report noted that the government had made great strides in addressing some of the challenges of human trafficking, however, sex trafficking of children was still identified as a concern.
The DCI- National Forensic Laboratory building.
Twitter
DCI
murder fight sex