The International Computer Games Association (ICGA), founded in 1977 by the Scottish IM David Levy, have conducted computer chess world championships since the 1970s. In 2010, software world championships were introduced, open world championships, where each program uses its own machine. Here all programs run on identical machines.
The last two software world championships were won by Komodo (Don Daily, Larry Kaufmann, Mark Lefler), in 2018 and 2019. Komodo also won the last four World Computer Chess Open Championships since 2016.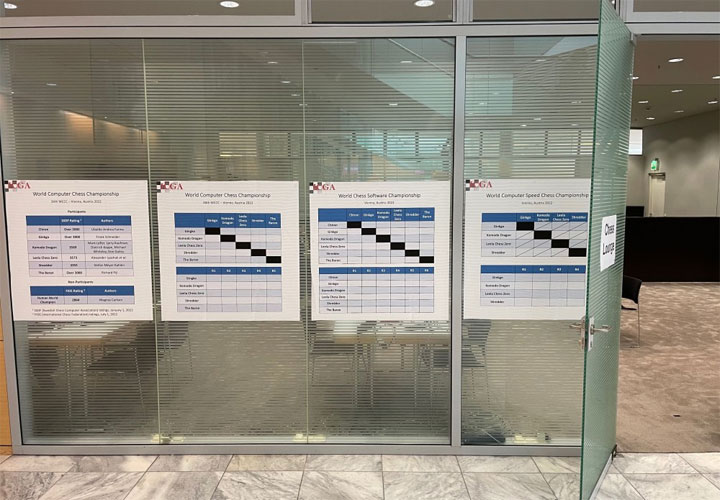 The 2022 World Computer Chess Championship was held in the Messe Wien (in Vienna)
Six programs participated. Top seed was Komodo, in a new program architecture. But it faced a very strong opponent: Ginkgo by Frank Schneider. After Frans Morsch retired as the engine programmer for Fritz, Frank Schneider took over a few years ago. Since then, his Ginkgo program has been the main engine of the Fritz program packages, in the latest version as the Fritz18 engine.
The version of Ginkgo playing at the World Cup is a modified "Fritz Neuronal", adapted to the World Cup tournament conditions. The network architecture essentially corresponds to the version that Fritz 18 customers received as a free update last March.
Komodo and Ginkgo scored seven out of ten possible points in the tournament, with time control of 30 minutes plus 15 seconds per move. Komodo, Leela Chess Zero and Ginkgo had all drawn among themselves, but LC0 had drawn one more against the other engines and ended up in third place, half a point behind.
So there was a playoff for the title between Komodo and Ginkgo. The first two playoff blitz games ended in draws, so that an Armageddon game had to decide. Komodo had White with twice the time, but had to win. The game ended in a draw, and Ginkgo had won the playoff and the world championship title.
Ginkgo was operated by Wolfgang Zugrav at the World Championships in Vienna. It was supported by Boston-IT and received a fast 128 core/512GB computer for testing and (further) training of the network, two months before the World Cup. Under these excellent development conditions around 40 million games were played in self-play mode. A good 500 versions of Ginkgo were developed and tested.

Program package Fritz 18
Instead of just increasing its playing strength – like adding 30 Elo points to its stratospheric rating, which we have actually done! – we decided to also create a new training tool for ambitious chess player. One that will teach you how to find brilliancies in your games. And it is a training tool that can be used by amateurs all the way to the World Champion, because Fritz 18 actually adjusts its playing strength, and the tactical opportunities it offers, to the proficiency of the opponent. Fritz offers you everything you will need as a dedicated chess enthusiast.
Evolving Genius: Fritz shows you what you are capable of being: an attacking player who can conjure up magnificent brilliancies over the board! The new AI-based training method leads you to brilliant sacrificial combinations via clever variant selection and discreet hints.
Also new in FRITZ 18:
Intelligent tips: Fritz provides subtle hints in difficult positions
Visual evaluation: pawn structure, king safety, piece activity and sharpness of the position
New chess board in Direct2D technology with a fresh look and improved animation
New engine analysis: Interesting threats, appealing ideas and the game continuation 
Animated engine variations: Intuitive visual display of the best continuation
Improved calculation training to give your Elo a quick boost.
Stronger Fritz 18 engine by Frank Schneider, optimised for short time controls.
 Order Fritz 18 in the ChessBase Shop for €79.90