#IBMCodePatterns, a developer's best friend.
#IBMCodePatterns provide complete solutions to problems that developers face
every day. They leverage multiple technologies, products, or services to solve
issues across multiple industries.
Click here to know more
Advertisements
The government of India has launched the "Swadeshi Microprocessor Challenge" under the aim of Atmanirbhar Bharat, to promote home-grown microprocessor manufacturing and designing.
The registrations for the challenge started from August 18th on the MyGov website and 100 shortlisted companies will be given a total grant of Rs 1 crore to build a prototype, while 25 finalists will win Rs 1 crore each. The top 10 teams will get a seed fund of total Rs 2.3 crores and 12 months of incubation support, under the Ministry of Information Technology. You can register here.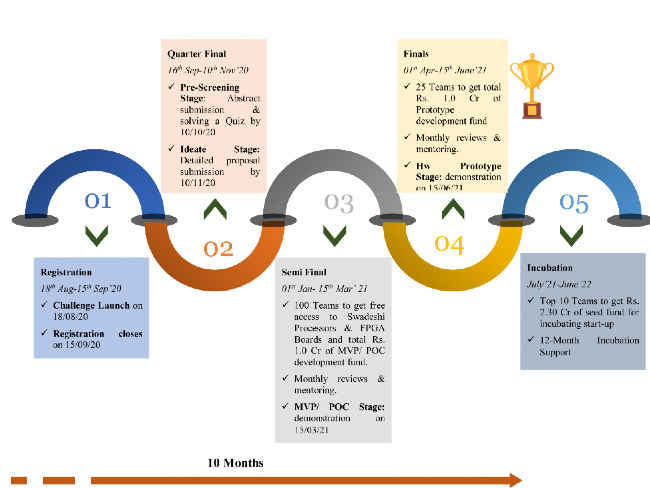 The challenge will be spread over 10 months with the aim to meet the growing need of homegrown compute hardware that would be a part of all smart devices deployed across various domains including public utility services, surveillance, environmental monitoring and more. The scope of the challenge spreads across a broad spectrum application including space, defense and nuclear energy and to mitigate the costs and dependence on external vendors.
The challenge requires participants to be Indian nationals and they have to make use of Xillinx FPGA Boards. Participants can also make use of microprocessors developed under the previous "Microprocessor Development Programme" — The indigenous "Shakti" and "Vega" microprocessors. Shakti was the first microprocessor designed and fabricated in India.
The contest is open to all Indian students pursuing undergraduate, postgraduate and doctoral degrees in Engineering disciplines with Indian colleges and universities. Teams cannot have more than 5 students and 2 faculty members.
Launching the challenge, the Union Minister of Law and Justice, Communications and Electronics and Information Technology, Ravi Shankar Prasad said,"Swadeshi Microprocessor Challenge, Innovate Solutions for #Aatmanirbhar Bharat seeks to invite innovators, startups, and students. This is to use these microprocessors to develop various technology products. This initiative is aimed at meeting India's future requirements of strategic and industrial sectors. And this also has the potential to mitigate the issues of security, licensing, technology obsolescence, and most crucially cutting dependency on imports."